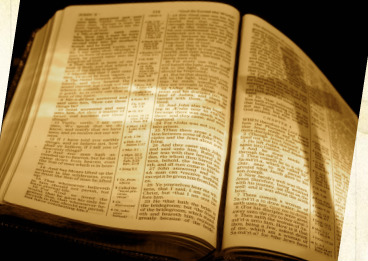 "But He answered and said, "Every plant which My heavenly Father did not plant shall be uprooted. "Let them alone; they are blind guides of the blind. And if a blind man guides a blind man, both will fall into a pit."
~Matthew 15:13-14
It concerns me to no end…
The trend of some is to say a "Sinner's prayer," believing their sins are forgiven, snap up a bible and call themselves Christians. Further, a number of them begin to teach what they feel is the word of God when many haven't even learned to follow it yet. This just isn't right…
My dear friends, I don't mean to sound so "flip" about it, in fact I apologize if it sounds as if that's my attitude. But when the gospel truth is in jeopardy…when people's very souls are in danger, it's time to stand up for the Lord!
It's time to break out that bible and study it in context for the full and complete truth.
Thanks to man's additions, deletions, and out-of-context interpretations of scripture, we find ourselves with quite a confusing mess today. When it comes to worshiping God, and being saved as true Christians, many of us are "missing the mark."
What's more, when we profess to believe in and share incomplete (therefore false) doctrine with others, it puts souls in danger of eternal punishment.
Let me say this. I don't profess to have all the answers to the mysteries of the word of God. But I can take the contextual message of the Lord's gospel concerning salvation and apply it to what must be done to be a member of the body of Christ.
First, we must agree that everyone needs to obey the commands of God and follow the examples which have been recorded in the bible in order to be a true Christian. Even Jesus did the will of His Father and taught only God's word in His earthly ministry. Because that is true, then we need to do the same to put us on the right track as His followers.
If we concur on that much, then what did Jesus teach us as His Father's will concerning the Gospel of Christ? Well, lets start at the very beginning.
We need to hear the gospel message. And just what is the gospel as it is defined in the bible? It is really very simple. Actually, most of us already know and believe in it.
Jesus Christ is the one and only Son of God. He came to earth, became flesh, and dwelt among man, (John 1:14). He then handpicked disciples to teach God's will, and set out as an example Himself, living the life God wants of us. Then, Jesus went to the cross and died a horrible death in order to cover the sins of all people with His shed blood.
Three days later, He arose from the grave of death and soon returned to the Father in heaven. But before He went, He commanded His disciples, (and all of us), to go and teach all nations, baptizing them in the name of the Father, Son, and Holy Spirit and make them disciples of the word of God. It's called "The Great Commission," and it is found in (Matthew 28:16-20).
From then until the end of earthly time, it is now the followers of our Savior who must be His advocates and teach only the word of the Father to this lost and dying world. It can be a difficult job, and many people will turn us and our message away. But we all have some spiritual gifts we can use to fulfill our duties as Christians, (1 Corinthians 12:4-5).
But again, let us turn our attention to just how we become a true Christian and follower of the word of God. Considering the full context of this topic from scripture, there seems to be six parts to becoming a true member of the body of Christ. Let's take a quick look at them here:
Hear the word–Of course it makes sense that we would hear what the bible has to say about God and His will for us. Once we hear that message, we gain faith as it says in (Romans 10:17).
Believe the word–Faith in the word of the Lord means to believe what our God has revealed to us. For unless we believe, we cannot be pleasing to God. This is told to us in (Hebrews 11:6, John 8:24).
Repent of sins–This makes perfect sense. Once we read of the commands of God which we have broken, we will want to do our best to turn away from them. That doesn't mean we won't "slip" at times, but as Christians we have grace to forgive sins (Luke 13:3, Acts 17:30-31, Acts 3:19, 1 John 1:7).
Confess Christ before men–Once we have come this far, where we don't act, think, or even talk like people still in the "world," some people will be curious as to why we don't do these things. This is when we have the opportunity to tell people that we believe that Jesus is the Son of God and we've decided to follow His teachings. This confession can also be made before the church congregation just before baptism (Matthew 10:32, Acts 8:37).
Be baptized into Christ–It is surprising how many people who call themselves Christians don't believe baptism is necessary for salvation! The entire theme, (context), of God's word centers on entering into Christ by being buried with Him in baptism. Please read these scriptures: (Romans 6:3-5, Galatians 3:26-27, 1 Peter 3:21, Acts 8:36-38, Acts 2:38). NOTE: According to the "Strong's Greek reference, 907" baptism comes from the Greek word "baptizo," which means to dip or submerge. That does away with the idea of "pouring" or "sprinkling" as true baptism.
Live a Godly life–When we have done all of these things from a truly loving and sincere heart, we are now considered to be a saved Christian according to the will of God the Father! Now we have begun a new life, transformed from the "old man" of sin and death to the "new man" of salvation and eternal life. Surely we will want to live for God in the best way we can, keeping His commands, for that is how we show our love for Him, (John 14:15, Titus 2:11-14). 
There will be some who read this post and disagree with parts of it, if not all. However, please remember that this is not my will, nor any man's word…it comes directly from the bible and has been supported by scripture.
It is not my desire to raise anger or endless debate with these words. I won't engage in argument over this topic as it sets a poor example for any unbelievers who may be reading this. I simply want to state what the bible has to say concerning that which makes a true Christian follower.
May God bless you and put these words in your hearts to ponder…
refs: ~Google~ biblehub.com~ Strong's Concordance~ 
~END